"I don't want my daughter to grow up without dreams the way many people from my generation did,"
"If they kill me, I won't be the first or the last."
That's what prominent Cuban dissident and performance artist Danilo Maldonado Machado told The Huffington Post's Alyona Minkovski when they met in Havana on Sunday.
Maldonado, also known as El Sexto or The Sixth, has for years been advocating for regime change and freedom of expression in his country. He is fighting for liberty, which he defines as values ranging from the freedom to go online to the freedom of citizens to form political parties and elect their own president.
Maldonado uses performance and graffiti art to demonstrate against his government. For him, painting on walls and other objects around Cuba is a way of "robbing space from that dictatorship," he told HuffPost, referring to the Castro regime that has controlled Cuba since 1959.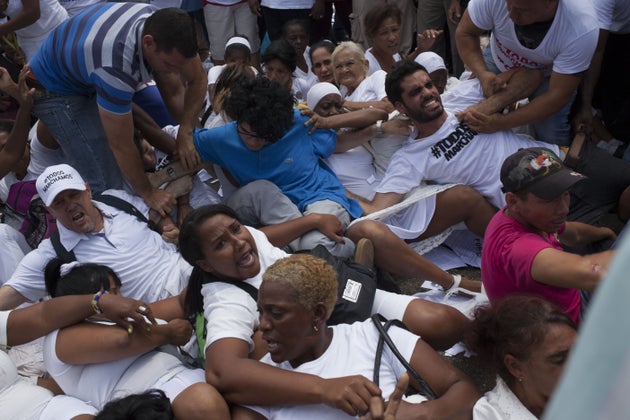 The artist has been detained multiple times by the Cuban government for his activism. In December 2014, he was imprisoned for 10 months after planning a performance involving two pigs painted with the names "Fidel" and "Raúl," the Castro brothers who have ruled Cuba for almost six decades. The performance was a direct reference to George Orwell's book Animal Farm, in which two pigs assume control over the farm's animals to prepare for a revolution against the farm owners.
He was once again detained, along with some 50 other activists, on Sunday after taking part in a peaceful, anti-government rally in Havana hours before U.S. President Barack Obama's arrival to the city. He was later released along with several other protesters. HuffPost spoke with Maldonado before his detention and has not met with him since.
Maldonado is determined to keep fighting — for the sake of the next generation.
"I don't want my daughter to grow up without dreams the way many people from my generation did," Maldonado said. "I want my daughter to see me in history books and that she knows that I did the right thing."
"If I die, if they kill me, my daughter will know that I was doing it for her," he added. "So that she can be free, so other people can be free."
"No quiero que mi hija crezca sin sueños de la forma en que muchas personas de mi generación lo hicieron"
"Si me matan, no voy a ser el primero o el último."
Eso es lo que el prominente disidente cubano y artista Danilo Maldonado Machado le dijo a la periodista Alyona Minkowski cuando se reunieron en La Habana el domingo.
Maldonado, también conocido como El Sexto o La Sexta, por años ha estado abogando por un cambio de régimen y la libertad de expresión en su país. Él está luchando por la libertad, que define como valores que van desde la libertad de ir en línea a la libertad de los ciudadanos para formar partidos políticos y eligen a su propio presidente.
Maldonado utiliza el rendimiento y el arte graffiti para manifestarse en contra de su gobierno. Para él, la pintura en las paredes y otros objetos alrededor de Cuba es una forma de "robar espacio a la dictadura", dijo a HuffPost, refiriéndose al régimen de Castro que ha controlado Cuba desde 1959.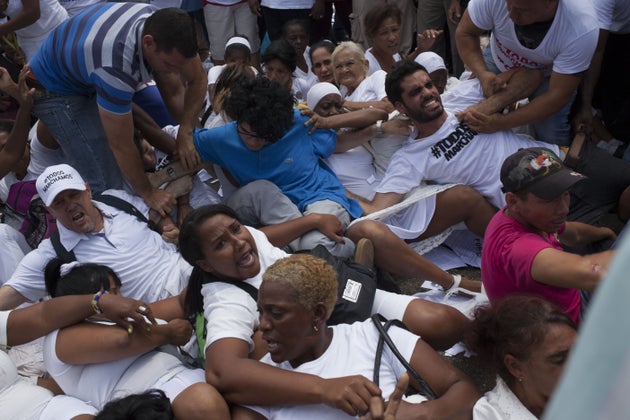 El artista ha sido detenido varias veces por el gobierno cubano por su activismo. En diciembre del 2014, fue encarcelado durante 10 meses después de la planificación de una actuación que implica dos cerdos pintados con los nombres de "Fidel" y "Raúl," los hermanos Castro que han gobernado Cuba durante casi seis décadas. La actuación fue una referencia directa al libro "Rebelión en la Granja" de George Orwell, en la que dos cerdos asumen el control sobre los animales de la granja para prepararse para una revolución contra los propietarios de las granjas.
Fue detenido una vez más, junto con otros 50 activistas, el domingo después de participar en una manifestación contra el gobierno pacífica en La Habana horas antes de la llegada del presidente EE.UU., Barack Obama, a la ciudad. Más tarde fue liberado junto con varios otros manifestantes. HuffPost habló con Maldonado antes de su detención y no se ha reunido con él desde entonces.
Maldonado está decidido a seguir luchando – por el bien de la próxima generación.
"No quiero que mi hija crezca sin sueños la forma en que muchas personas de mi generación lo hicieron", dijo Maldonado. "Quiero que mi hija me vea en los libros de historia y que ella sepa que yo hice lo correcto."
"Si muero, si me matan, mi hija va a saber que lo estaba haciendo por ella", agregó. "Así que ella sera libre, por lo que otras personas también seran libres."